We are thrilled to invite you into our special world!
And because we love to delight, there's a GIFT waiting, JUST FOR YOU.
Drop your email so we can be in touch, and we'll send you The Chocolate Box (value $70!), fresh from our kitchen lab.
 
It is an honor to be connected to you through Caroline. Our friendship goes back to the early days of our independent family business (catch my favorite interview in our original studio here). The ongoing and passionate support from such an inspirational woman, human, and renowned beauty expert has been an extraordinary gift.
Caroline proclaimed The Blue Cocoon as one of her top skincare products of all time. The cult-favorite formula was even inaugurated into her Hall of Fame! I was elated when she asked to include our hero's best companion, The Jasmine Garden, in her newest Light Up Kit. On their own, each formula is incredible. Together, they are what healthy, glowing skin dreams are made of.
The Jasmine Garden calms, nurtures, and hydrates the skin, infusing it with fresh botanical extracts and cellular waters, soothing colloidal silver, and abundant antioxidant protection. This game-changing formula is as powerful as it is intoxicating, amplifying the effectiveness of every treat that comes before or after.
Mist generously to:
• enhance penetration of oils, balms, & serums
• hydrate dry and sensitive skin
• reduce redness and inflammation
• cool and calm acne flare-ups
 If you're new here, there are some things you might want to know about us:
We are 100% customer-funded and built upon the fuel of organic word-of-mouth (read more about our story here).
We are meticulous and uncompromising in the sourcing of our fresh, potent ingredients and produce our complete collection in micro-batches in our fully in-house, private Los Angeles kitchen lab. The work we do here is intimate and high-touch, and our small team is obsessed with bringing you the very best of us. 
We believe you are worthy of extraordinary care.
And we have built our reputation on meeting you there. 
It is our honor and pleasure to offer personalized support, tips, and product recommendations through our Care Bears. Please do send a note anytime.
We welcome you with open arms and are so happy you're here.

All my love,

---
Welcome to The Jasmine Garden! Romance your spirit, soothe your skin.
Reduce redness, soothe irritation, and balance your complexion with a lush blend of botanical goodness. Morning, evening, and all the delicious spaces in between, it is always the right time to feed your skin with The Jasmine Garden.
The Jasmine Garden, the ritual
Mist generously to saturate freshly cleansed skin, before and after oils, like The Blue Cocoon and The Youth Dew.
In addition to bringing antioxidant-rich hydration to your ritual, this treat also works as a penetration enhancer, helping to assure the assimilation of both fat and water-soluble vitamins, amplifying the effectiveness of every product that comes before or after it.
Create a skin superfood cocktail by blending several spritzes of The Jasmine Garden with a pea-sized amount of The Blue Cocoon and 2-3 pumps of The Youth Dew in your palm. Melt this stunning trio into your soaking wet skin as one, completing with generous massage.
Bring your bottle of The Jasmine Garden into the shower with you to be instantly transported to the most lush tropical rainforest.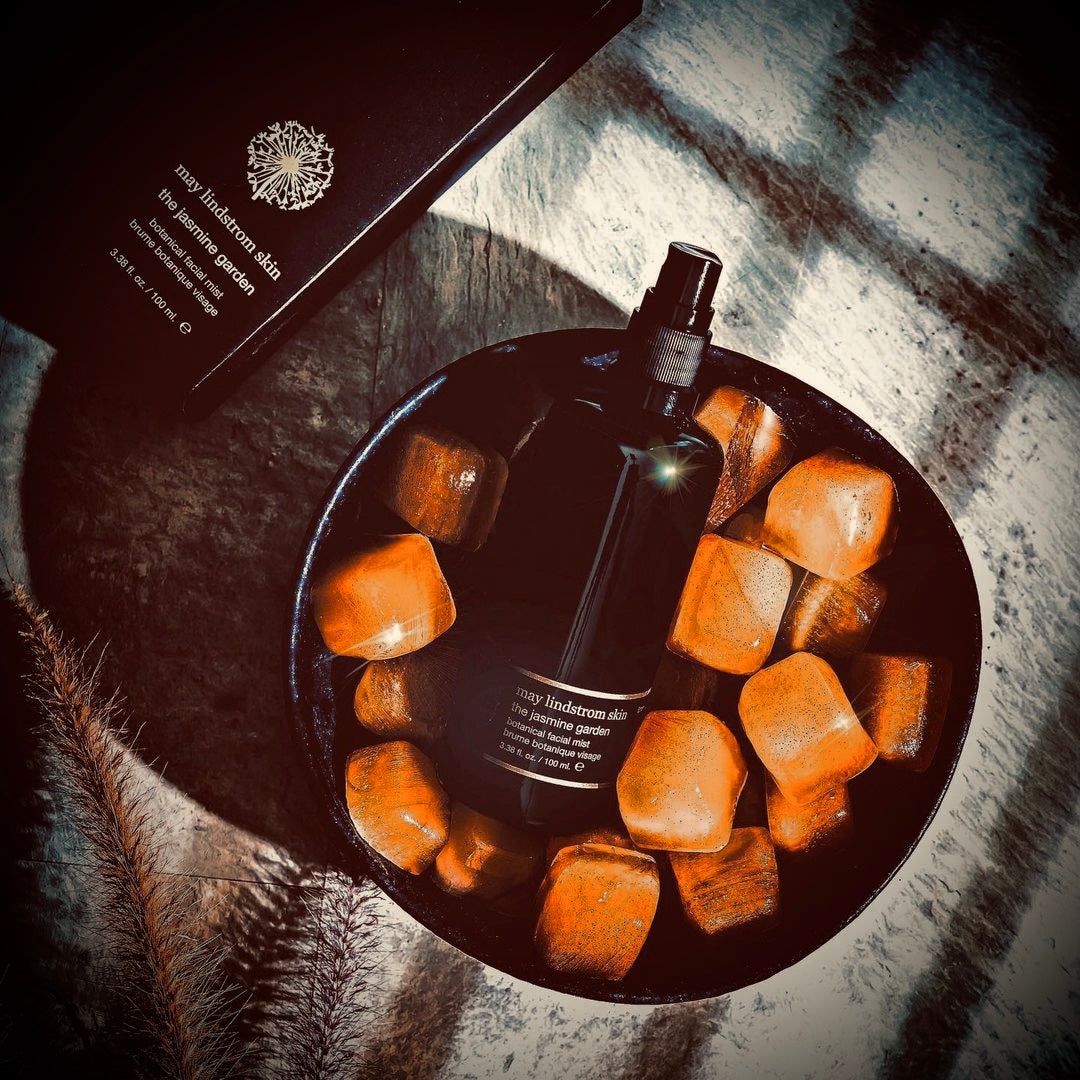 Freeze a Tablespoon of The Jasmine Garden in an ice tray, the lush golden fluid transforming into the most beautiful, aromatic treatment cube you could imagine. Melt briefly over skin after cleansing or masking (this feels incredible following The Problem Solver!) to refresh and hydrate. Finish with The Blue Cocoon and The Youth Dew, massaging directly into the icy waters.
Tend towards dryness? Mist to keep your mask treatments damp as all the nutritive goodness gets to work. You may also utilize The Jasmine Garden as the water element to activate your powder-to-mousse formulas.
---
2 deluxe minis
& free shipping option
are your gifts along with every fresh order