Avocado Oil
Considered both a delicacy and an aphrodisiac, avocados are a decidedly delicious symbol of fertility. In some South American countries, one spouse will give the other this fruit, which grows in pairs, as a token of love. Now that's a custom I'm on board with!
Avocado oil is an emollient, highly penetrating oil with a naturally robust content of Vitamins A and E that work synergistically to improve the skin's texture. Its notable content of unsaturated fatty and essential fatty acids (boasting an impressive 64% oleic acid content) contributes to its deeply nourishing, skin-food qualities.

Common Name
Avocado Oil
Scientific Name
*Persea Gratissima (Avocado) Oil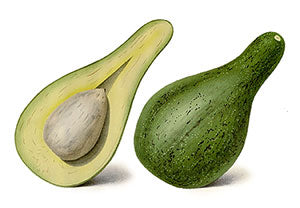 "Everything in moderation. Except avocado."
Featured In:
there are so many luscious skin benefits!
Avocado is naturally rich in antioxidant carotenoids like alpha-carotene, beta carotene, beta-cryptoxanthin, zeaxanthin and lutein. These free-radical quenching compounds provide significant protection for your skin from the environmental damage that leads to fine lines, wrinkles, and other visible signs of aging. Along with this, avocados boast surprisingly high amounts of Vitamin C, which is needed for the creation of elastin and collagen, and tocopherol (Vitamin E). Tocopherols help reduce the appearance of scars, while helping tighten and restore elasticity in the skin, making it one of our graceful-aging superheroes. Avocado oil is also unique in that it contains large amounts of phytosterols which act as a natural sunscreen, are anti-irritants, and help to soothe chapped, red, or irritated skin.